Service & Installation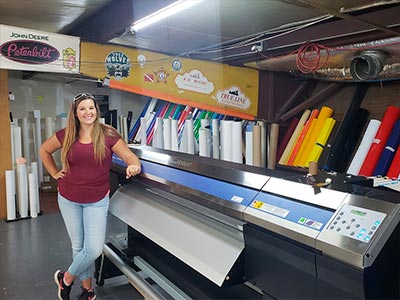 Good quality signs can last for several years with very little maintenance. These installations are exposed to the elements continually, and stormy weather can sometimes cause damage to them. Signage is a crucial aspect of your company/establishment's physical location. Therefore, if it is in bad shape, it can affect people's impression of your business, marring your reputation.


Comprehensive Sign Lighting Repairs
At Jerry's Signs, we provide a wide range of signage services and installation solutions. We have been operating in this industry for over 35 years. Our company has handled all types of signage design and installations for various businesses in and around Abingdon, VA. We recognize that clients prefer to deal with a single operator rather than multiple ones for various signage services, and we offer comprehensive solutions under a single roof.

Our experts know how to deal with damages caused by impact, inclement weather, regular wear, and tear, heat, cold, and humidity. If you notice any deterioration in your business signs, contact us immediately. You can rely on us for all your sign service and installation requirements. Many of our customers opt for lighted signs as they are visible even after dark. In addition to fixing non-illuminated signs, we also offer excellent sign lighting services that include:


Neon Sign Repairs- We can troubleshoot issues and fix them quickly and efficiently, whether you require pole sign maintenance, LED sign repairs, or neon sign repairs. We use high-quality spares and cover all our work with warranties.


LED Sign Repairs-Our team can maintain, repair, and service all types of a pylon, neon, fluorescent, and LED signs. We handle everything from basic cleaning and upkeep of signs to setting light controls and more.

The crew can also replace discolored, deteriorated, brittle, cracked, or broken acrylic, channel letters, or fiber features.


Sign Installations
We are committed to providing high-grade sign installations at the best pricing. Our experts handle local jobs and large-scale national signage requirements for more prominent companies. We are renowned for our professional, superior sign installations throughout the region and have many returning clients. Our skills and knowledge in this space are always up to the mark; we can design and install signs with LED, fluorescent, or neon light sources.


Benefits of Led Business Signs
Most businesses are now replacing traditional lighting with LED because of its many benefits, such as:


LED is safe because these lights do not contain any reactants or chemicals, making them an eco-friendly option to neon or fluorescent lights
LEDs are 80% more energy-efficient than other lights saving you on your signage lighting costs
LED technology produces clear and bright light, so your illuminated sign is visible and easy to read from a distance
Light-emitting diodes can provide up to 50,000 hours of illumination, which means it provides you with an excellent return on investment

We can handle all your signage service and installation requirements. For more details, please contact Jerry's Signs at this number or through this Contact Us form. We offer customized solutions at cost-effective price points.


Service & Installation
Maintenance and repair are essential factors in keeping your signs in good condition. Impacts, inclement weather, normal wear and tear, exposure to humidity, heat, and cold climates are all issues that our specialists are familiar with. If you detect any degradation in the appearance of your company signs, please get in touch with us right once. You can count on our expertise for all of your sign-related servicing and installation needs. Many of our clients choose illuminated signs since they can be seen even at night. We not only repair non-illuminated signs, but we also provide outstanding sign illumination services.

Whether you need pole sign maintenance, Neon sign repairs, or LED sign repairs, we can troubleshoot issues and repair the lighting promptly and effectively. We utilize high-quality parts and provide guarantees on all our work. All pylon, fluorescent, and neon, and LED signs can be maintained, repaired, and serviced by our staff. Everything from simple sign cleaning and maintenance to establishing light controllers and more is taken care of by us.
We Provide Services to the Following Cities, Towns and Surrounding Regions of VA and TN: