Graphics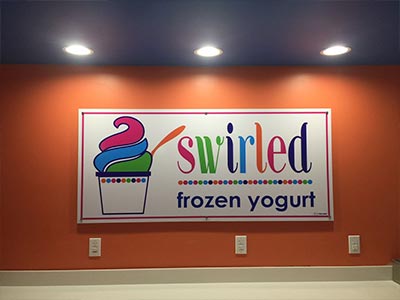 Today, competition is on the rise in every industry and sector. If you want to stay a few steps ahead of the competition, you need to have a solid marketing strategy in place. Businesses must have an online presence and use various digital marketing strategies to reach their audiences and keep them engaged. At Jerry's Signs, we are a well-respected operator in the graphics and vehicle signage space. We offer customized vehicle wraps' solutions to our clients in and around Abingdon, VA.


Benefits of Vehicle Signage Graphics
The customized vehicle graphics that we provide become the perfect way to advertise your brand. Our team creates attention-grabbing imagery that is attractive and relevant. You can use these graphics to promote your company's products, services, and brand.

The best part of this adverting medium is that it provides round-the-clock, mobile exposure. There are several other benefits to opting for vehicle graphics and wraps, such as:


You can create the brand impact you want because your logo and business contact is printed on the wraps
The graphics are eye-catching, cover a wide area, making them easily visible even as the car/truck is in motion
This form of advertising becomes the perfect way to attract new customers and get them interested in what your company offers
The right kind of signage also becomes a great source of pride for your employees as they feel connected to the brand and company they are working for
Vehicle graphics work well for established brands and startups alike and boosts brand visibility and recognition
You should mention your company's URL on the graphics along with your contact information; it's a great way to increase traffic to your website.
Types of Wraps to Choose From
We provide customized vehicle wraps, so you get to select everything from the shape, size, color, design, images, and theme. Our team is here to provide input on these aspects, and you can choose from:


Full wraps cover the entire car/truck (including the roof). They are impactful because you can print your logo, message, and other details over a larger surface. This aspect makes it catchier and effective.
Partial wraps cover only a section of the vehicles like the sides, boot, or just the hood.
Graphics and decals are partial wraps but smaller than the ones we just mentioned above. They are like stickers that you can apply to any portion of the vehicle.
Roof wraps, as the name implies, are designed for a vehicle's roof. The messaging can be read from people in buildings while your car/truck is stationary or in motion on the streets
Superior Graphics and Car Wrap Installations
As you can see, there is a wide range of vehicle wraps and graphics options available, and we can design and install these for you on your business vehicles. Many new and returning clients come to us for high-quality graphics and car wrap design and installation services.

For more details about our high-grade service and installation services, feel free to contact Jerry's Signs at this number or through this Contact Us form. We offer customized solutions at cost-effective price points.


Graphics
The custom-designed car graphics that we can provide are an excellent strategy to promote your business. Our team produces eye-catching artwork that is both appealing and relevant. You can use these graphics for advertising your business's goods, services, and brand. The greatest thing about this advertising method is that it offers mobile exposure 24 hours a day, seven days a week. There are several additional advantages to using car graphics and wraps. Because your brand and contact information feature on the wraps, you may make the desired impression and reach wider audiences. The designs are eye-catching and cover a large area, making them visible even while the vehicle is moving. This kind of advertising is ideal for attracting new consumers and piquing their interest in what your business has to offer. When your employees feel linked to the brand and business they work for, the proper signage becomes a symbol of pride. Vehicle graphics are compelling for both established and emerging companies, increasing brand exposure and awareness. It's a good idea to include your company's URL and contact information in the graphics, and it is a fantastic method to drive visitors to your site.
We Provide Services to the Following Cities, Towns and Surrounding Regions of VA and TN: