Awnings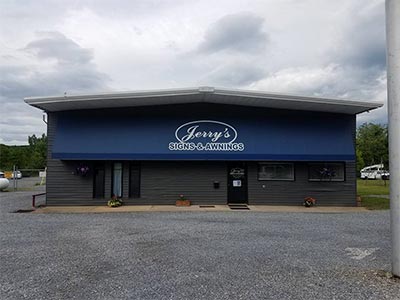 If you run your business from a physical location, you need to ensure that the frontage of your store, building or commercial structure is designed well, with the right features. At Jerry's Signs, we provide a wide range of awnings to residential and commercial customers in Abingdon, VA, and the surrounding areas.


High-Quality Awnings
These features are not merely shade structures; they also provide excellent branding and advertising opportunities. We can design and install the best awnings for large display windows, porches, entryways, and doors. Designing awnings needs creativity and skills, and we have all that it takes to provide our clients with high-quality installations that boost your brand's visibility while providing essential shade.

You need to follow various local codes even while installing semi-permanent structures such as awnings. We have the experience and knowledge to handle these jobs to your satisfaction. Our company never compromises quality, and we use superior, weather-resistant materials and printing to make the best awnings. What makes our products so great is that you get high quality at cost-effective pricing.


Unique Residential Awnings
There are many different spaces and areas on residential properties where awnings can become a great addition. We can design, plan, and install awnings outside French windows, over balconies, patios, terraces, decks, courtyards, and other areas where you need some shade. An awning is not a permanent structure, yet it protects from direct sun and rain.

The space under the awning can become a great spot to relax and entertain friends. In addition to outdoor shading, it also protects the indoors from exposure to the sun's rays, which helps prevent fading of furnishings, carpets, etc. We have a wide range of retractable awnings to choose from, and there is plenty of scope for customization.

When planning your awning, we consider your property's aesthetic and structural styling recommending colors that blend with your home's exterior. Our seasoned graphics team helps with unique and creative designs, and you can be sure that your property's façade and outdoor spaces look amazing. Many of our clients contact us for awning installations of poolscapes. We survey the available area and ensure there is appropriate support to hold the awning stably.


High-Quality Commercial Awnings
All commercial property owners want their business' frontage to reflect their brand, look professional and welcoming. Adding a well-designed, high-quality shade structure is a great way to achieve this. We provide excellent commercial awning design and installation to businesses big and small. We know that commercial awnings are intrinsically different from residential awnings.

In addition to functionality, business owners may also want their company name, logo, or even a message or tagline printed on the awning. We help with all these aspects, making sure that the awnings that we design reflect your brand. A stylish, high-quality canopy can attract the attention of passersby, increasing foot traffic to your business.

For more details about our specialized awning design and installation services, feel free to contact Jerry's Signs at this number or through this Contact Us form. We offer customized solutions at cost-effective price points.


Awnings
Awnings are more than just shade structures; they're also great for branding and advertising. We can design and install the finest awnings for big display windows, terraces, entryways, and entrances. Awning design requires both imagination and expertise, and we possess both to offer our customers high-quality installs that increase brand exposure while also providing the necessary shade. Even when constructing semi-permanent structures like awnings, you must adhere to different municipal regulations. We have the skills and expertise to do these tasks to your satisfaction. Our business never compromises quality, and we utilize premium, weather-resistant materials and advanced printing technology. You have the option to place a company name, image, or even a slogan or tagline on the commercial awning. We can assist with all these things, ensuring that the awnings we create are consistent with your brand. Passers-by will notice a beautiful, high-quality, well printed, and correctly positioned canopy, which will increase footfall to your business.
We Provide Services to the Following Cities, Towns and Surrounding Regions of VA and TN: